Vrlo elegantna, laka i efikasna mogućnost izgubiti centimetre u struku. Ne treba ništa raditi, samo leći na savijeni u rolnu peškir i gubiti centimetre u struku.
Ovo je metoda japanskog doktora Fukucudzi (68), autora poznate knjige, prodate u više od 5 miliona primeraka. Doktor Fukucudzi je specijalista za karlične probleme vec 20 godina, koji je otkrio da je glavni uzrok velikih naslaga na struku u razilaženju karličnih i podrebarnih kostiju. Nakon niza eksperimenata i ogleda, utvrdio je istinitost svoje hipoteze i osmislio vežbe za brzo mršavljenje struka. Iako se, ono što treba da se radi, ne može nazvati vežbama.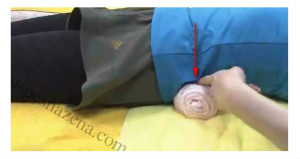 Suština metode je: ležati na savijenom u rolnu peskiru nekoliko minuta tri puta dnevno. Rezultat: gubitak suvišnih centimetara u struku.
Dakle, evo šta treba raditi:
1. Napraviti rolnu (valjak) od peškira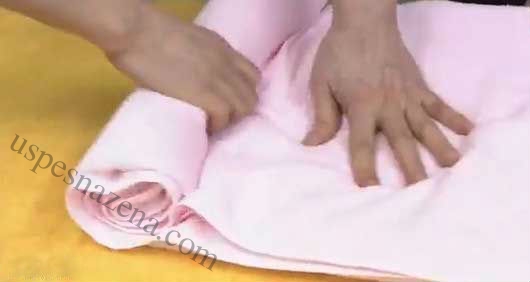 i umotati ga u neku traku

2. Sesti na čvrstu i ravnu površinu (ne krevet!), bolje na pod.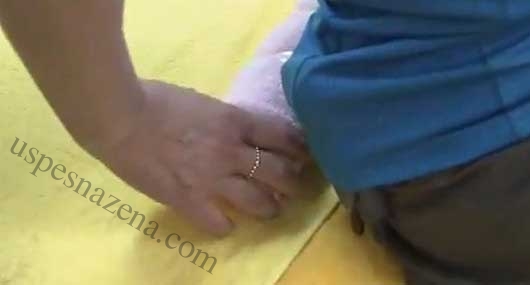 3. Položaj peškira mora biti tačno ispod pupka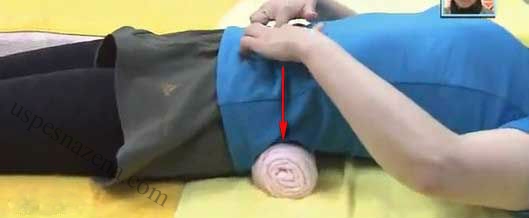 4. Proverite, napravite kažiprstima sa obe strane liniju od pupka do peškira. Savijeni peškir mora biti malo širi od širine leđa

5. Opustite se. Stavite noge u širini ramena i savijte stopala tako da se dodiruju samo palčevi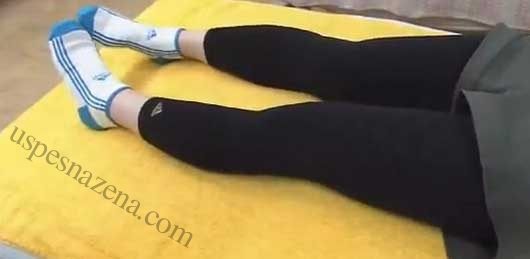 6. Ruke ispružite iznad glave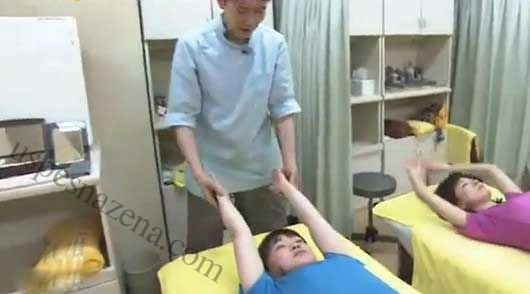 7. Okrenite dlanove na dole i sastavite male prste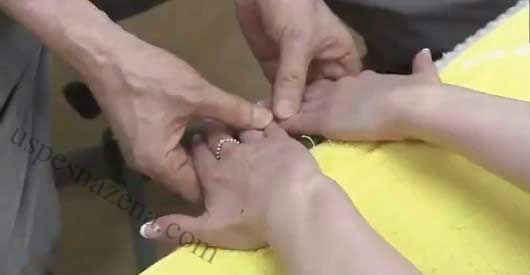 Iskreno rečeno, prilično neprijatna poza. Ako vam je teško po prvi put ispružiti ruke, ne sekirajte se, ispružite kako možete. Bitno je da se uverite da se dodiruju mali prsti na rukama i palčevi na nogama.

To je to! U ovom položaju treba da lezite 5 minuta. Možete tako lezati 3 puta dnevno, ali prvi put ne vise od 5 minuta.
Nije teško, ali na početku postoji neprijatan, čak i bolan osećaj, jer će vaš skelet početi da se vraća u njegov prirodan položaj. Ako vam je isuviše teško izdržati neophodnih 5 minuta, počnite sa minut-dva i svaki dan povećavajte, dok ne dođete do 5 minuta.
I ne propuštajte ni jedan dan da biste dobili stabilan rezultat! U suštini to je vrsta protezanja. Ako pomerite valjak ispod grudi – imaćete efekat podizanja grudi. Ako ga stavite na deo ispod rebara – struk će postati više izražen.

Samo budite pažljivi, jer čak i za pet minuta ležanja u ovoj pozi, kosti i zglobovi pomeraju se.
Dakle, posle seanse ustajte veoma polako. Prvo na stranu, onda sesti, a tek onda ustati. Izbegavajte nagle pokrete. Naravno, ako imate bilo kakvih problema sa kičmom, leđima, posavetujte se sa svojim lekarom ili ortopedom – da li smete raditi ovu vezbu.
Čak i ako ne verujete u ovu metodu, nista vam ne smeta da probate. Preporučuje se da izmerite svoje obime do i posle tretmana, barem prvi put i bićete prijatno iznenađene!
Sa vremenom ispravlja se drzanje i imate lep, zdrav osećaj u celom telu, prestaju bolovi u ledjima.
Ako neko zna japanski, mozete pogledati ovaj video sa tretmanom dr. Fukucudzija u kome ucestvuju dve devojke. Posle prvog tretmana jedna izgubila 4 cm u struku. Druga nije izgubila u struku, zato je porasla za 1 cm.
Izvor: http://uspesnazena.com/